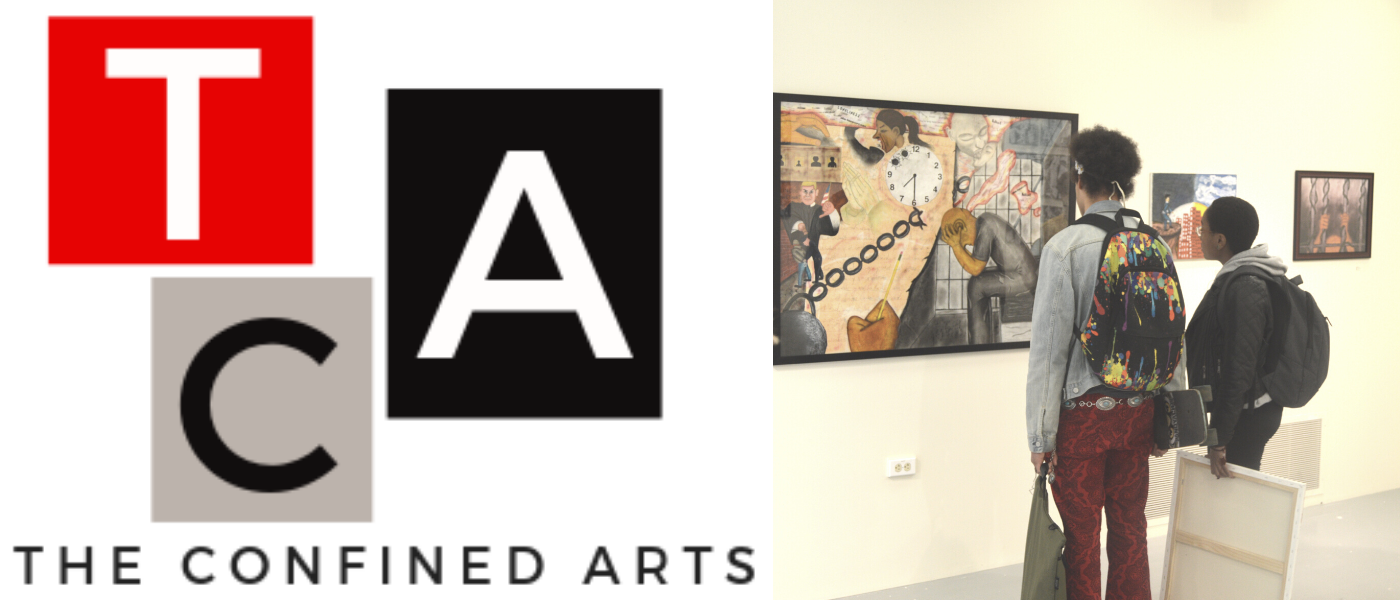 Located at The Center for Justice at Columbia University and at the Center for Institutional and Social Change at Columbia Law School, The Confined Arts (TCA) builds the capacity of both currently and formerly incarcerated artists by connecting them to resources, research that we conduct through Columbia University, and an extensive network of advocates, service organizations, and other justice impacted artists.
Since 2014 TCA has produced visual and performing arts public programming and film-based projects that target specific aspects of the criminal legal system to shed light on or counter harmful, reductive, and dehumanizing narratives that shape and inform public perception and policy decisions. Through the Covid-19 pandemic and the recent national attention on our country's history of systemic racism, TCA has responded by continuing to create art that challenges and changes the narrative of the criminal legal system.
One such project was Open Call for Clemency, a digital exhibition of visual artwork created by artists who are currently incarcerated and dealing with the deadly effects of the Covid-19 pandemic and unsanitary living conditions. The exhibition was capped by a series of virtual programming that brought together city officials, legal experts, local organizations, grassroots organizers, and more to testify to the power of arts to influence change as well as the urgent need for mass clemency in the name of public health. 
TCA additionally expanded its artistic work to a national scale through a collaborative video project called The Viral Monologues: Covid and Incarceration. A partnership between TCA, advocates from the Release Aging People in Prison (RAPP) Campaign, Zealous, the Center for Institutional and Social Change at Columbia Law School, The Broadway Advocacy Coalition, and the 24 Hour Plays culminated in twelve filmed monologues released to raise awareness amongst the general public of the conditions of incarceration amidst the pandemic. The creation process entailed pairing noted writers such as Lynn Nottage and DeRay McKesson with currently incarcerated people across the country, their family members, and advocates serving them during the global pandemic. Their stories were then performed by television, film, and Broadway actors like Andre de Shields and Aja Noami King, and presented alongside action steps to amplify the advocacy asks of each individual. One of the pieces was picked up by news outlets in Miami and was circulated nationally to promote the advocacy asks of the individual that the story was based on. The project has since been adjusted and replicated in other cities as a part of the larger Hear Us project.
TCA also conducts innovative research that can inform advocacy-based projects. Previous studies have included the Label Impact Study, which explores how using stigmatized language affects how people dehumanize or humanize others; the Television Research project, that examines the use of dehumanizing labels and stereotypical representations of incarcerated individuals in popular television shows; and the Social Dynamics of Prison interview study, which explores how the experience of incarceration impacts how people form and maintain relationships post-incarceration. 
In September of 2019, TCA also hosted the inaugural Justice Conference: The Power of Language to Incarcerate, where TCA presented original research from the Label Impact Study and the Television Research project, and brought together an interdisciplinary group of experts to discuss the importance of language in challenging stereotypes and stigma. TCA continues to use our research to push for humanizing language, and has recently partnered with the Securus Foundation to hold a Language Conference as part of their Language Campaign. At present, TCA is building off of findings from the Social Dynamics of Prison study to conduct research on new possibilities for mental health relief and healing from the effects of incarceration. In conjunction, TCA has been hosting digital forums to gather the knowledge of experts and perspectives of impacted communities to imagine possibilities for potential alternatives to the criminal legal system as it currently exists. 
Learn more about The Confined Arts by visiting their official website @ www.theconfinedarts.org