May 16, 2023
Collective Leadership Institute alum Gale Muhammad shares how the program changed her life and supported her work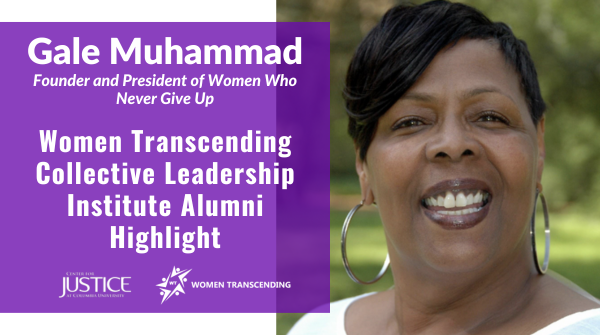 Name: Gale Muhammad
Cohort: 4
State: New Jersey
Title: Founder and President of Women Who Never Give Up
How has the CLI community supported you?
At first, I didn't want to do it. I was burned out and tired from this work and felt like I didn't have support. Cheryl really encouraged me to do it. She kept egging me on, and it was the best thing that could have happened to me. Every time I got on the screen with my sisters, I felt like the ambulance was giving me an electric shock and I was coming back. I needed a comeback. It made me believe in myself again and reminded me how I got to the cohort in the first place. I'm so glad that CLI decided to create this sisterhood where we support each other. It makes me feel safe in this work.
How did your experience with the Collective Leadership Institute support your work?

I didn't graduate from college so having something on my resume that said Columbia was huge. The sessions taught me how to write grants and inspired me to go after grants I would have never thought to go after. They taught me about social media which is so important in the 21st century. CLI gave me skills I didn't have before which has helped me to apply for more funding and advocate for more women in prison.
Describe the relationships you built and connections you made throughout the cohort:
I love all of my sisters and have learned so much from them. Surprisingly, Covid actually helped us all be able to work together more easily via Zoom and it really opened up the country to us. We were able to connect with other women from all over because of the ease of Zoom. We bonded so well even through a screen. We would call each other in between meetings. We still call just to check in on each other regularly. We are going to be together forever. We are just so plugged into each other, and I feel so loved. They gave me everything I felt like I was being deprived of. 
How has your approach to your work changed since you did CLI? 
I learned how to get out of my own way. I learned new things about language and the way we go about doing the work. I can actually talk about racism and mass incarceration when 20 years ago you couldn't even talk about prison. CLI  has liberated my work and that gave me power back. The table was built a long time ago, we've just been strengthening it and expanding it and it's now this great big table we're all allowed to not only sit at, but we set it.
What is your favorite memory from your time with CLI and why?
New Orleans was my favorite memory and doing the second line down Bourbon Street. I met sisters from New Jersey doing this work who I had never met before. I cried the whole weekend in New Orleans. I get choked up thinking about all the girls we have worked with who are now home from prison.
What CLI session was the most impactful for you and why?
Fox and Rob Rich were my favorite session. When Fox came on and talked about doing the documentary and all the naysayers and haters, that moved me. Because I experience the same. Despite all of that, Fox still sought out support and connected with people. That session put me on the path to start working on my own book about my family and the legacy of my grandmother. Seeing people like Fox in places that I didn't even know we could be in expanded my thinking.
Anything else you want to share?
I thank Columbia for providing a place for us to come together and better organize. We all care because we've been impacted by the system and know something is wrong and want to change it. So if we can just get together and be better organized, we can really make a difference. 
Cheryl and Kathy are powerhouses and have created something beautiful at Columbia. I just know we are going to change the landscape of this work. I'm glad my sister Cheryl sent me the life rope that is CLI. She saw I was drowning and she pulled me in. 
We're in the right place at Columbia, at the right time, and have the right people, and I see no reason why we can't make a change. Let's keep growing and glowing.