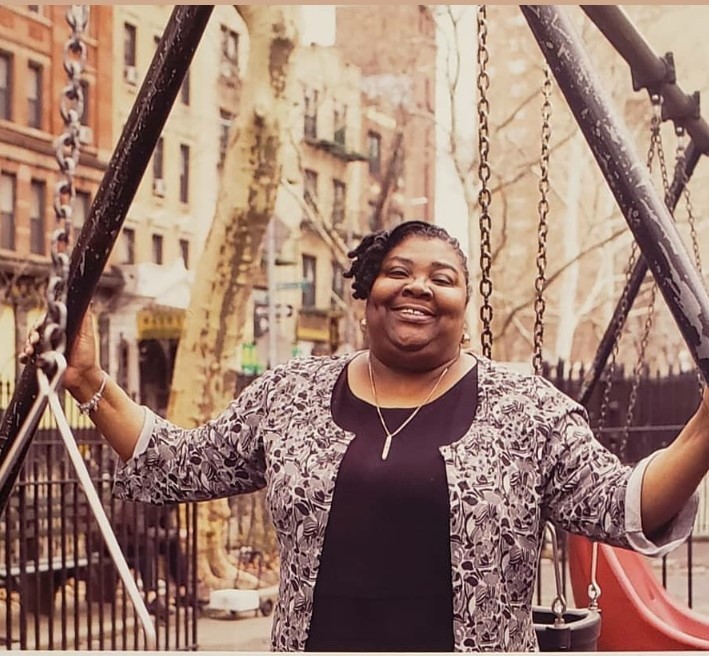 The Center for Justice wants to celebrate the life and brilliance of Russelle Miller-Hill. Russelle, affectionately known as Rusti, was an important member of Columbia University, (CU) lending her expertise in the areas of criminal justice, reentry, HIV/AIDS care, substance abuse treatment, and issues surrounding women. As the Reentry Coordinator with the Manhattan District Attorney's Office, Rusti partnered with CU's Office of Government and Community Affairs and the West Harlem Restoration and Reentry Project to provide much needed support to the upper Westside community reentry organizations. With the Center for Justice, Rusti was a member of the 2020 Women Transcending Collective Leadership Institute, a national project that supported her leadership, advocacy and organizing efforts. 
Rusti knew that her lived experience could impact policy change, and inspire those who had similar experiences so she found time to lend her voice and knowledge to a wide variety of documentaries, videos, and publications, including: Rusti's Story, Ebony Magazine, The House on Fire, Sisters Keepers, POZ magazine, and the New York Times just to name a few.
Rusti was a recent graduate of Hunter College's Silberman School of Social Work, where she obtained a Master's Degree in Social Work focused on Organizational Management and Leadership; a Certified Alcohol and Substance Abuse Counselor and a New York State Certified Recovery Peer Advocate (CRPA) and Trainer.
Undoubtedly, Rusti's source of inspiration was her supportive family: Husband Kevin, children Brandi and Brandon, and grandchildren Jarrell and Sierra. According to Rusti's family, "she was our protector, she left us in body but the love, strength, humility, compassion and understanding that she planted within all she knew, will live on." 
Rusti we will always remember your unforgettable infectious smile, big heart and undeniable efforts to give voice to those that are muted.
Our dear sister and friend Russelle "Rusti" Miller-Hill, job well done, your legacy lives on! 
Before she passed, Rusti participated in an interview about her work and involvement in the Collective Leadership Institute. See her responses below. 
Name: Russelle Rusti Miller-Hill
What city and state do you live in?: New York, New York
How and why did you get involved in the work?: I am a community advocate and reentry coordinator in NYC, my role is to create bridges to educate the community and DOCCS around issues and barriers for women reintegrating into communities and their families. As a woman and mother with similar experiences of lost children in the system, dealing with homelessness and substance use disorder I understand first hand the need to bring those experiences to the forefront and to the tables of government officials in order to enact policy change and support. I have spent the last 20 years working to make this a reality.
How did you hear about CLI?: I have been involved with the CLI for over 10 years in various capacities.
What made you want to join CLI?: It was important to surround myself with like minded women in order to hold on to my new life style and direction to maintain my freedom.
What has been the most valuable thing so far about being a part of CLI?: The importance of community and how my voice can make a difference.
What do you wish people knew about women who are incarcerated/formerly incarcerated/their families?: That we are not the sum of our mistakes. We deserve the same respect and dignity afforded to any human being.
Who is your biggest supporter?: My family. 
What is your favorite form of self-care?: Reading.
Anything else you want to share?: I lead by example inside the correctional facilities preparing women for their return to their communities.