July 26, 2022
The application period for the next cohort of the Beyond the Bars Fellowship is now open! Please help us spread the word.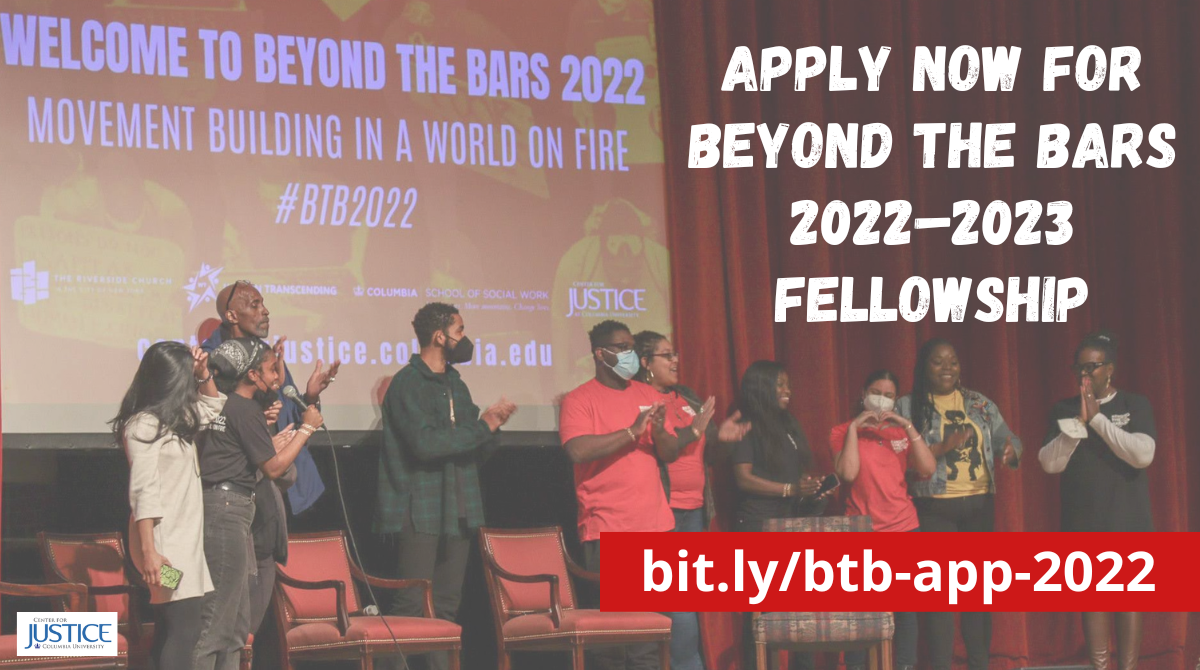 About the Beyond the Bars Fellowship

Thank you for your interest in the Beyond the Bars Fellowship. The Beyond the Bars Fellowship is a certificate-based program through the Center for Justice at Columbia University that offers interdisciplinary leadership to develop and deepen identity, analysis, skills and networks towards ending mass criminalization, incarceration and to create a more just and safe world. The Fellowship holds space for a balance of students, community members and formerly incarcerated and directly impacted people. The Fellowship will meet weekly for approximately eight months. Through seminars, workshops and guest lecturers, Fellows explore their own experiences in the movement as they work toward social change and gain a theoretical and practical understanding of the criminal legal system. They are introduced to various models of social change including community organizing, legislative advocacy, communications as well as approaches to interpersonal and political transformation like restorative and transformative justice.
Additionally, Fellows identify advocacy issues and existing organizing efforts for social and political change and then work in small groups to further support these efforts. The primary goal is to support Fellows in finding their place in the movement, while offering knowledge, skills, experience and community to sustain their work.
This Fellowship is for people based in the greater New York City area and will meet in person at Columbia University in the School of Social Work.  In the event of any changes, we will follow the COVID-19 protocols taken by the university.
For more information about the Fellowship click here:
To apply, please complete this form.  If you have questions you can email: [email protected]

Is the Fellowship Right for me?

We aim to bring together Columbia University students with the larger NYC community to create a diverse and rich learning environment that can be mutually beneficial to all Fellows. We encourage people impacted (directly and indirectly) by mass criminalization and incarceration to apply. Please note that extensive experience is not a requirement.  You must reside in New York City or the surrounding areas to participate in the Fellowship.

What will you gain?
Leadership Development: Participate in regular seminars, workshops and guest lectures to deepen your understanding of yourself, develop your understanding of justice issues and your capacity to enact change
Organizing Experience: Work collaboratively with other Fellows on advocacy and organizing projects
A Community of Mentors and Colleagues: The Fellowship is an intentional and experiential learning community that will support your growth as a social justice advocate
A Stipend of $1000
All applicants should meet the following:
Have a desire to be a part of group learning environment
Be able to work collaboratively in a team setting
Demonstrate enthusiasm for social justice
Commit to fulfill all requirements of the Fellowship
Attend all sessions and workshops
Columbia Fellows that are students must be enrolled at least half-time in an undergraduate or graduate program.

Community Fellows are not enrolled at Columbia University. We encourage applicants who are not students or have not attended college to apply. Students from other colleges and universities in New York City are also welcome to apply.

Deadlines

The deadline to apply is Friday, August 19th. 

To Apply

You can apply using this form (you must include your resume / CV)

For any questions you can email: [email protected]

 
Application Process
Application Dates 2022 
July 26th- Application Period Opens
August 19th- Application Period Closes
August 22th  - September 2nd – Group Interviews
September 12th  - Accepted Applicants are Notified
October 4th- Fellowship starts
Tentative Fellowship Calendar

The Fellowship will meet most Tuesday nights from 6:45-8:45pm starting October 4th and run through mid-April 2023. 
Fall Dates 2022
** We will meet in person unless Columbia University indicates otherwise**
October 4th - Seminar 1 - Introductions
October 11th - Seminar 2 - Social Justice Starts with Self 
October 15th - One Day Retreat - Building the Foundation 
October 18th - Seminar 3 - Understanding Power, Privilege and Oppression
October 25th - Solidarity Project Introduction
November 8th - Seminar 4 - History and Causes of Mass Incarceration and Criminalization  
November 15th- Seminar 5 - Understanding the Carceral Continuum
November 29th - Solidarity Project Workshop #1
December 13th  - Seminar 6 - Paradigms of Justice
December 14th - Solidarity Project Workshop #2
Spring Dates 2023  
** We expect to be in person. Some dates are subject to change based on Beyond the Bars conference dates **
Saturday January 14th – Half Day Long Restorative Justice Training
January 17th  - Solidarity Project Workshop #3
January 24th - Seminar 7 - Introduction to the Movement: Reform to Abolition 
January 31st - Solidarity Project Workshop #4
February 7th - Seminar 8 - Movement Ecology: Strategies for Change
February 21st - Seminar 9 - Community Organizing
February 28th - Seminar 10 Legislative Advocacy
March 7th - Solidarity Project Workshop #5
March 13th - 17th - Spring Break
March 21st  - Communications and Messaging (Opportunity Agenda) 
March/April - Beyond the Bars Conference (TBD)
April /May - 2 day Closing Retreat (Fellowship Reflections and presentations)