April 09, 2022
Find videos, photos, resources, and more from this year's Beyond the Bars Conference: Movement Building In A World On Fire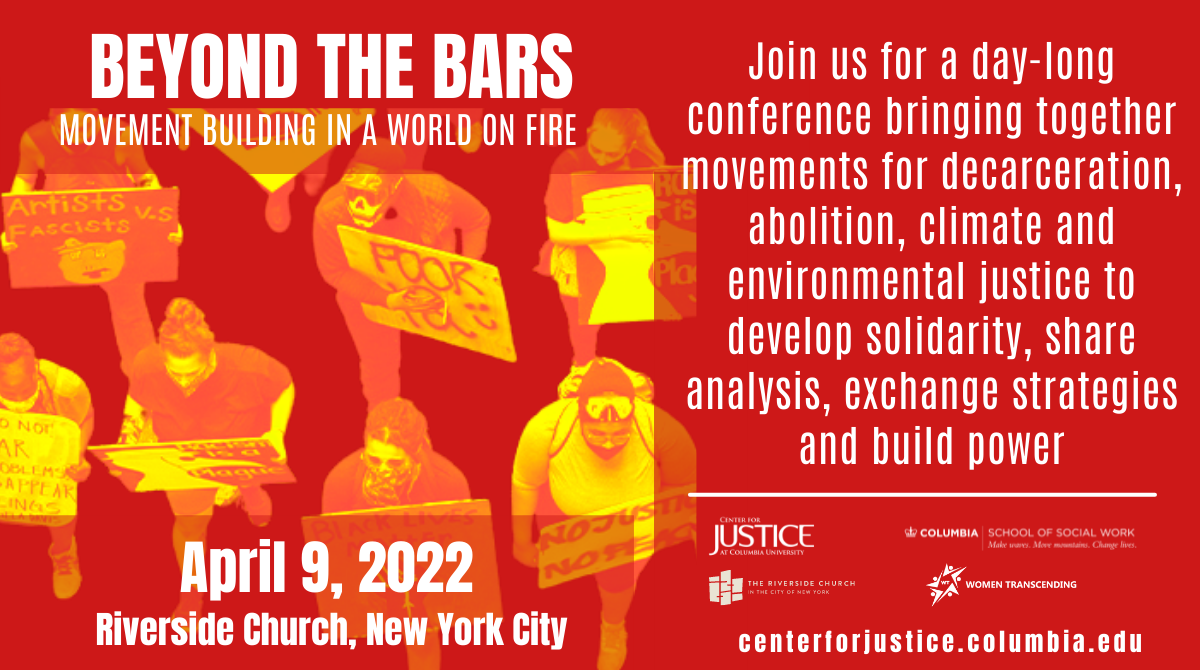 Conference Overview
Beyond the Bars 2022 brought together movements for decarceration, abolition, and climate and environmental justice to develop solidarity, share analysis, exchange strategies and build power. This conference aimed to not only confront the dire, intersecting realities of climate catastrophe, mass punishment, criminalization and incarceration, but to explore how we are working towards good relations, with each other, our communities and the earth we want and deserve.
With three panels over the course of the day, scholars, organizers, healers and artists explored these questions in the hopes of strengthening our collective work:
What are the connections between the struggles for decarceration, abolition and environmental and climate justice? How does the work of making communities safer intersect with the protection of our environment and earth?
What are the organizing strategies and concrete practices that confront the intersections of these struggles and advance our collective work?
How can our respective movements collaborate and build together to transform our communities and develop stronger and more cohesive relations?
Conference Videos
Panelists:
Ruth Wilson Gilmore (The Graduate Center) 
Tamisha Walker (Safe Return Project)
Kelly Hayes (Lifted Voices Collective) 
Alleen Brown (The Intercept) 
Alice Kim (Pozen Family Center for Human Rights / PNAP) 
Panelists:
Asha Ransby-Sporn (The Dissenters) 
Monica Trinidad (Just Seeds Collective) *Recorded
Sumaya Awad (Adalah Justice Project) 
Darren Mack (Freedom Agenda)
Nadia Ben-Youssef (Center for Constitutional Rights)
Panelists:
Patricia Rubio (Another Gulf is Possible) 
Richard Cruz (Ahimsa Collective)
Sonal Jessel (WE ACT for Environmental Justice)
Laura Whitehorn (Release Aging People in Prison Campaign)
Andrea James (The National Council for Incarcerated and Formerly Incarcerated Women and Girls) 
 
Beyond The Bars 2022 Action Items
–Sign up for the Parole Justice Statewide rallies on April 20 and the all day Advocacy Day in Albany on April 25. Check out more events at RAPPCampaign.com/events
–Sign the petition to Free Dr. Mutulu Shakur
–Sign the petition to Bring Sundiata Acoli Home
–Sign up for Earth Day Advocacy Day in Albany on April 22 with WE ACT for Environmental Justice
–Sign up for the virtual Earth Day Advocacy Day on April 26 with WE ACT for Environmental Justice
 
Beyond The Bars 2022 Resources
The Intercept, Climate and Punishment Series 
Prism, Prisons pollute and incarcerated or not, everyone deserves Just Transition
Seth J. Prins, PhD, MPH and Brett Story, PhD, Connecting the Dots Between Mass Incarceration, Health Inequity, and Climate Change
The Intercept, Ruth Wilson Gilmore Makes The Case For Abolition
Truthout, Harsha Walia: "To Become Ungovernable Is Central"
The Red Nation, The Red Deal: Indigenous Action to Save Our Earth
Rose Braz and Craig Gilmore, Joining Forces: Prisons and Environmental Justice in Recent California Organizing
The New Twenties, The Climate Case for Prison Abolition
The Real News Network, Mass incarceration is an environmental justice issue, and vice versa
Study and Struggle, Climate Justice
Jacobin, A Green New Deal for Decarceration
Keala Uchôa, Critical Abolitionist Environmental Justice
Organizations To Support
Another Gulf is Possible Collaborative
Center for Constitutional Rights 
People's Campaign for Parole Justice 
Prison + Neighborhood Arts Project
Release Aging People in Prison Campaign 
The National Council for Incarcerated and Formerly Incarcerated Women and Girls
WE ACT for Environmental Justice
Speaker Bios
George Stonefish is a lifelong resident of New York City, and well-known as a native singer, dancer, artist and speaker. He is a First Nation member [American Indian] who is 1/2 Lenape; 1/4 Ottawa; 1/8 Ojibwa; 1/16 Pottawatomi; 1/16 Miami from Ontario, Canada. However, he was raised in NYC and has spent most of his life working for the First Nation [American Indian] community on both a national and local level. He started his activism at an early age when he went to the takeover of Alcatraz by First Nation students in 1969 with his Grandmother and Uncle. Since that time he has participated in the defence of Native Nations as a member of their warrior societies and by promoting their struggles through media, as he had the first weekly radio program on Native issues on WBAI 99.5 FM in NYC from 1978 to 1983. He was also raised in the tradition of his people, which has helped him to organize Native Nations' governmental structures in preparation for federal recognition. He has spoken at the United Nations and at universities across the USA. Stonefish has worked for the American Indian Community House throughout his life in various capacities and now sits on the Board of Directors.
Shawnda Chapman is the Director of the Girls Fund Initiative at the Ms. Foundation. Prior to joining the organization, Shawnda worked as a lead program specialist on a national initiative aimed at preventing and ending girls' incarceration at the Vera Institute of Justice. She also served as Director of the Beyond the Bars Fellowship program at the Center for Justice at Columbia University.   Partially based on her own experiences, her work has focused on racial justice, gender justice, and understanding the ways girls of color get pushed into the criminal justice system.  With a particular focus on marginalized and vulnerable populations, Shawnda has broad experience developing as well as implementing research, monitoring, and evaluation materials both domestically and internationally.
Shawnda sits on the board of Black Women's Blueprint, a transnational organization that works to end all forms of violence against Black women and girls.  She also serves on the advisory board of Southern New Hampshire University's Global Education Movement, an initiative that works to increase refugee access to tertiary education. Shawnda earned her Bachelor of Arts degree in Sociology and Master of Science degree in Applied Social Research from The City University of New York, Hunter College.
Plenary 1: Connecting the Struggles: Decarceration, Abolition, Environmental and Climate Justice
Ruth Wilson Gilmore is Professor of Earth & Environmental Sciences and Director of the Center for Place, Culture, and Politics at the City University of New York Graduate Center. She has co-founded many grassroots organizations including the California Prison Moratorium Project, Critical Resistance, and the Central California Environmental Justice Network. Gilmore is author of the prize-winning Golden Gulag: Prisons, Surplus, Crisis, and Opposition in Globalizing California (UC Press); and  Abolition Geography: Essays Toward Liberation (Verso). Change Everything is forthcoming (Haymarket). She and Paul Gilroy co-edited Stuart Hall: Selected Writings on Race and Difference (Duke). Along with Angela Y. Davis and  Mike Davis, Gilmore was awarded the 2020 Lannan Foundation Lifetime Cultural Freedom Prize.
Tamisha Walker co-founder and Executive Director of the Safe Return Project, Tamisha has ten years of community organizing experience in cities impacted by trauma, mass criminalization, and economic inequality. In 2017 she was awarded the San Francisco Robert C. Kirkwood Leadership Award. 2018 she was awarded the Community Excellence Award by The Black Elected Officials of the East Bay, for my amazing track record of demonstrated excellence in my field and the highest standards of unity, ethical conduct, integrity, and civic and social responsibility. In 2019 she received Contra Costa's Humanitarian of the year award, she was a 2020 Rosenburg Foundations Leading Edge Fund fellow, and a 2021 Soros Justice fellow. She has been appointed to the following Contra Costa County boards: Racial Justice Oversight Body, Juvenile Jus-tice Coordinating Council, and the Contra Costa LEAD Antioch diversion initiative advisory committee.
Kelly Hayes is a Menominee organizer, writer and direct action trainer based in Chicago. Kelly co-founded the Lifted Voices collective and the Chicago Light Brigade and was an organizer with We Charge Genocide. She is also the host of Truthout's podcast "Movement Memos." As a movement educator, Kelly has trained thousands of people over the course of her work. Her written work can be found in Truthout, Teen Vogue, Bustle, her blog Transformative Spaces, The Appeal, and Mariame Kaba's book, We Do This 'Til We Free Us, as well as various anthologies, including, Who Do You Serve, Who Do You Protect? Kelly's movement photography is featured in the "Freedom and Resistance" exhibit of the DuSable Museum of African American History in Chicago. 
Alleen Brown is an award-winning investigative reporter who covers environmental justice, especially where it intersects with criminalization. Her "Climate and Punishment" project mapped the locations of jails, prisons, and ICE detention centers against risks associated with the climate crisis. She's also the author of multiple investigations into repressive tactics used by state and corporate actors against Indigenous-led land and water defense movements. Her series "Oil and Water" exposed the mercenary security firm supporting the construction of the Dakota Access Pipeline near Standing Rock, while a second series, "Policing the Pipeline," exposed counterinsurgency tactics used to build Enbridge's Line 3 pipeline in Minnesota. Currently based in Brooklyn, she got her start reporting on education in Minneapolis and St. Paul, where she's from. Much of her work can be found at The Intercept, where she was formerly a staff reporter
Alice Kim (she/her) is Director of Human Rights Practice at the University of Chicago's Pozen Family Center for Human Rights where she directs a Human Rights Lab focused on mass incarceration. Centered on narratives of incarceration, Alice's work addresses building practices of solidarity across the prison wall, creating platforms for truth-telling about the carceral system, and increasing access to education in prison. Alice co-leads the Prison + Neighborhood Arts/Education Project's (PNAP) Think Tank at Stateville Prison. The PNAP Think Tank builds knowledge about long-term sentencing practices, creates cultural works about the lived experience of incarceration, and facilitates community-building efforts connecting scholars, teaching artists, and community leaders with incarcerated students. Alice is also a co-founder of the Chicago Torture Justice Memorials (CTJM), the collective that spearheaded the campaign for reparations for Chicago police torture survivors. She was a leader in the movement to end capital punishment in Illinois and nationwide, working closely with the Death Row 10, a group of Black men who were tortured by Jon Burge's forces and sentenced to death.
Plenary 2: Movement Building in a World on Fire: Organizing at the Intersections
Asha Rosa Ransby-Sporn is a Chicago based community organizer committed to growing big, bold movements that get us closer to being a little more free. She was a co-founder of BYP100, a national organization of young Black people engaged in Black Queer Feminist organizing and as a college student helped launch and led a campaign that successfully pressured Columbia University to financially divest over $10 million from the private prison industry. In 2014, she was apart of the We Charge Genocide youth delegation to the United Nations Convention Against Torture where she testified on the issue of police violence in Chicago. Asha now sits on the steering committee for a citywide campaign to defund the Chicago Police Department and serves as Co-Director of Organizing for Dissenters, a anti-militarist youth organization fighting global policing and war. 
Sumaya Awad is a Palestinian writer and organizer focusing on Palestine, Islamophobia, immigration, and labor. She is Director of Strategy at the Adalah Justice Project and co-editor of Palestine: A Socialist Introduction. She is a member of NYC-DSA.  
Monica Trinidad is a queer, Latinx visual artist and cultural strategist based in Chicago. She is the co-founder of For the People Artists Collective and a member of Justseeds Artists' Cooperative. For over a decade, Monica has created zines, digital graphics, mixed media posters, and other visual art amplifying youth-led, intersectional, and grassroots abolitionist organizing work in Chicago and nationally.
Darren Mack is an activist, advocate, and organizer. Darren is a Co-Director at Freedom Agenda, a member-led organization, dedicated to organizing people and communities directly impacted by incarceration, to achieve decarceration and system transformation.
Nadia Ben-Youssef (she/her) is the granddaughter of artists, refugees, and revolutionaries. Her ancestors have taught her to imagine a different world, to root the future in our past, and to trust that we are everything we need. Nadia is a storyteller who believes in the power of aesthetic force to awaken, disrupt, and inspire transformation. A human rights lawyer by training, Nadia currently serves as the Advocacy Director at the Center for Constitutional Rights, a radical legal and advocacy organization working with social movements to dismantle racism, cisheteropatriarchy, economic oppression and abusive state practices. Her work often centers at the intersection of art and advocacy, and she curates exhibits and artistic programming that document key human rights concerns, celebrate social movements, and allow creatives the space to chart the future. Central to Nadia's lifework is a commitment to the liberation of Palestine, and she is a proud co-founder of the Adalah Justice Project. Nadia is happiest when she is dreaming and building with co-conspirators towards horizons of abolition, decolonization, and collective flourishing. Together with her family, Nadia is currently documenting the life and vision of her grandfather Salah Ben Youssef, a Third World revolutionary and freedom fighter of Tunisia's independence movement who was assassinated in 1961.
Plenary 3: Building the World We Need
Sonal Jessel is the Director of Policy at WE ACT for Environmental Justice. She is responsible for advancing the organization's policy agenda at the local, city, state, national levels. Prior to joining WE ACT, she conducted research in energy insecurity, housing, and public health at Columbia University. Sonal has an MPH in Population and Family Health with a concentration in Climate and Health from Columbia University's Mailman School of Public Health, and a BA in Organismal Biology from Pitzer College, in California. Her interest is focused on the intersection of environmental and social justice, health, and policy.
Richard Cruz has been with the Ahimsa Collective since 2018. He is native and his relations are through his mother (Georgia) Assiniboine Sioux, Nakota, and Arapaho. He also has an american college education and has earned Certifications as a Substance Abuse Treatment Counselor and Communications Technician. He currently holds a position as the Co-Executive Director. He believes in celebrating our differences, new experiences and healing our communities and history. He lives in the Bay Area of California.
Patricia Rubio, a native of the Rio Grande Valley (RGV), is a lifelong learner firmly rooted in her Rio Grande Valley heritage. Before joining the Another Gulf is Possible Collaborative, Patricia spent five years as an Interpretive Naturalist and Environmental Educator at various nature centers, including the Mission Butterfly Center as a nursery technician growing native plants. At McAllen Nature center, she designed free family programming like " Nature Niños" for homeschool students, free day camps in the summer, and led night hikes. In the Edinburg World Birding Center, she gained experience as an Educator in the 5th-grade Wetland program, where all 5th graders in the city had a field trip no matter their socioeconomic background. Her experience as an interpretive naturalist and environmental educator helps unite people with nature and fosters deep connections with the indigenous flora and fauna of the RGV. Patricia lives in Deep South Texas along the Tex/Mex border. In her spare time, she enjoys birdwatching, butterflying, and identifying Rio Grande Valley native flora. 
Laura Whitehorn served more than 14 years in federal prison for armed actions against US military and political targets. In prison she organized HIV/AIDS peer education and support, and after her release she was an editor at POZ magazine for ten years. She works on campaigns for the release of U.S.-held political prisoners, focusing on those from the Black liberation movement, currently including Sundiata Acoli and Dr. Mutulu Shakur. She edited "The War Before" by the late Black Panther political prisoner and organizer Safiya Bukhari and helped organize the exhibit, "Self-Determination Inside/Out" at Interference Archive in Brooklyn, showing how the struggles of incarcerated people from the Attica rebellion to the present have sparked and led social movements on the outside. In 2013, with Kathy Boudin and the late Mujahid Farid, she co-founded Release Aging People in Prison/RAPP, a New York-based grassroots organization to dismantle the racist punishment system and end death by incarceration. She continues to organize with RAPP and the statewide campaign RAPP leads, the People's Campaign for Parole Justice. She is a member of Jewish Voice for Peace and the National Council of Incarcerated and Formerly Incarcerated Women and Girls.
Andrea James, JD. Is the Founder and Executive Director of The National Council for Incarcerated and Formerly Incarcerated Women and Girls, Founder of Families for Justice as Healing, author of Upper Bunkies Unite: And Other Thoughts on the Politics of Mass Incarceration, a 2015 Soros Justice Fellow and. Recipient of the 2016 Robert F. Kennedy Human Rights Award. As a former criminal defense attorney and a formerly incarcerated woman, Andrea shares her personal and professional experiences to raise awareness of the effects of incarcerating women on themselves, their children and communities. Her work is focused on ending incarceration of women and girls and contributing to the shift from a criminal legal system focused on police and prisons, to a system led by directly affected people from within their neighborhoods and based on individual and community accountability.
Closing Performance
Batalá New York is the premier all-women, Black-led, drumming ensemble, bringing high-energy performances to the people of New York City through an engaging blend of cultural education and joyous entertainment. Read more on their website: https://batalanewyork.love/