March 30, 2022
Register now for the 2022 Beyond the Bars Conference: Movement Building In A World On Fire, Saturday April 9 in NYC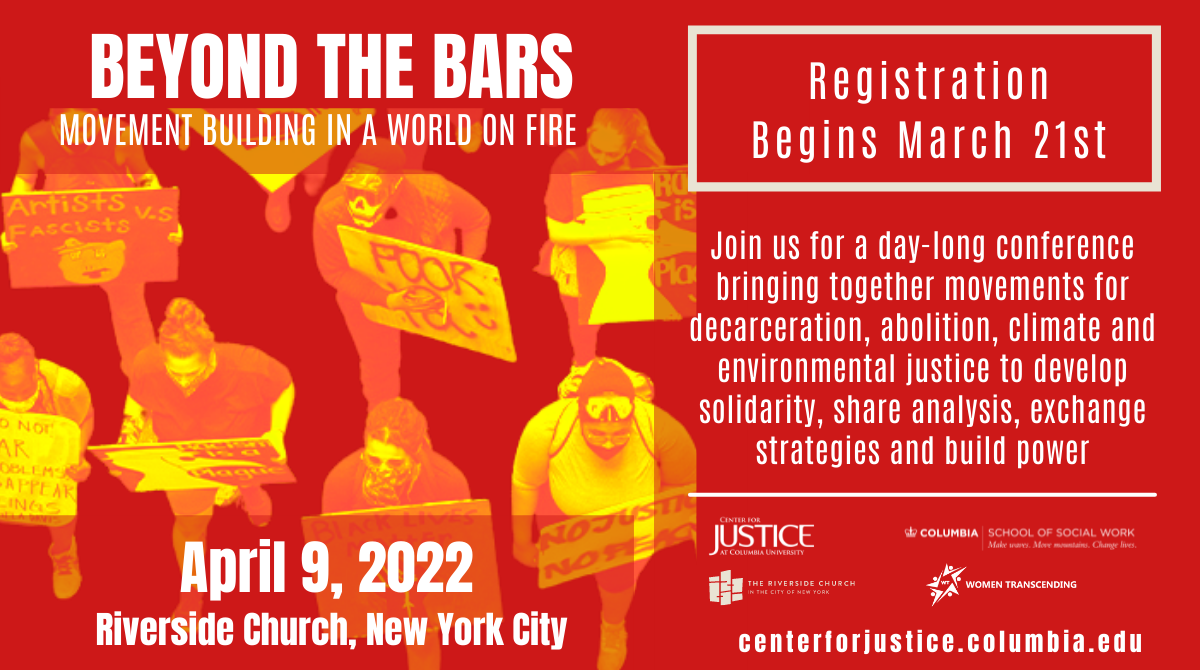 IMPORTANT NOTE for REGISTRATION There are limited in person seats for the conference. Please only register if you intend to come.
About this event
IMPORTANT NOTE for REGISTRATION 
There are limited in person seats for the conference. We ask that you only register if you intend to come.  While we fully intend to accommodate everyone who registers, registration does not guarantee you a seat. Space at all events will be first come first seated for all registered attendees.  
COVID-19 Precautions: All attendees will be required to show proof of vaccination and wear a mask during the event.
BEYOND THE BARS: MOVEMENT BUILDING IN A WORLD ON FIRE
Beyond the Bars 2022 is bringing together movements for decarceration, abolition, and climate and environmental justice to develop solidarity, share analysis, exchange strategies and build power. This conference aims to not only confront the dire, intersecting realities of climate catastrophe, mass punishment, criminalization and incarceration, but to explore how we are working towards good relations, with each other, our communities and the earth we want and deserve.
With three panels over the course of the day, scholars, organizers, healers and artists will explore these questions in the hopes of strengthening our collective work:
What are the connections between the struggles for decarceration, abolition and climate justice? How does the work of making communities safer intersect with the protection of our environment?
What are the organizing strategies and concrete practices that confront the intersections of these struggles and advance our collective work?
How can our respective movements collaborate and build together to transform our communities and develop stronger and more cohesive relations?
 
CONFERENCE SCHEDULE 
Welcome, Land Acknowledgement and Opening (10:00am)
Center for Justice at Columbia University
George Stonefish
Angela Davis - *Recorded Remarks
Plenary 1: Connecting the Struggles: Decarceration, Abolition, Environmental and Climate Justice (10:25 - 11:55am)
Ruth Wilson Gilmore (The Graduate Center) 
Tamisha Walker (Safe Return Project)
Kelly Hayes (Lifted Voices Collective) 
Alleen Brown (The Intercept) 
Alice Kim (Pozen Family Center for Human Rights / PNAP) 
Plenary 2: Movement Building in a World on Fire: Organizing at the Intersections (12:05-1:30pm) 
Asha Ransby-Sporn (The Dissenters) 
Monica Trinidad (Just Seeds Collective) *Recorded
Sumaya Awad (Adalah Justice Project) 
Darren Mack (Freedom Agenda)
Nadia Ben-Youssef (Center for Constitutional Rights)
Lunch - 1:30-2:30pm
Plenary 3: Building the World We Need (2:30-4:00pm)
Patricia Rubio (Another Gulf is Possible) 
Richard Cruz (Ahimsa Collective)
Sonal Jessel (We Act) 
Laura Whitehorn (Release Aging People in Prison Campaign)
Andrea James (The National Council for Incarcerated and Formerly Incarcerated Women and Girls) 
Closing Performance with Batala New York (4:00pm)
LOCATION INFORMATION 
Riverside Church
490 Riverside Drive
South Hall
New York, NY 10027
ACCESS: We want to create an inclusive space. Please help us to do this. If you have specific needs please email beyon[email protected] and we will do our best to meet them.
Conference Sponsors
The Riverside Church; Trinity Church Wall Street; Columbia School of Social Work; The Division of Social Science, Faculty of Arts and Sciences, Columbia University
Important Information and FAQs
We have 350 seats. After we reach capacity there will be a standby line for when people leave and seats open up.
Are there ID requirements or an age limit to enter the event? -- ID is required to show proof of vaccination, but all ages are welcome at this event and we strongly encourage young people to attend.
Will the event be livestreamed? -- Yes the conference will be livestreamed and can be viewed here; https://www.youtube.com/channel/UCulPOIFfEjtVPw3y29MXDdg
Will there be childcare available? -- Unfortunately this year, because of COVID-19, we are not able to provide childcare.
Where can I contact the organizer with any questions? -- Please email [email protected] with any questions.