December 06, 2022
This year's conference theme is Seeding Justice, exploring the ways in which movements for justice cultivate healing, accountability and transformation, for people and communities, as well as to hold harmful carceral systems to account.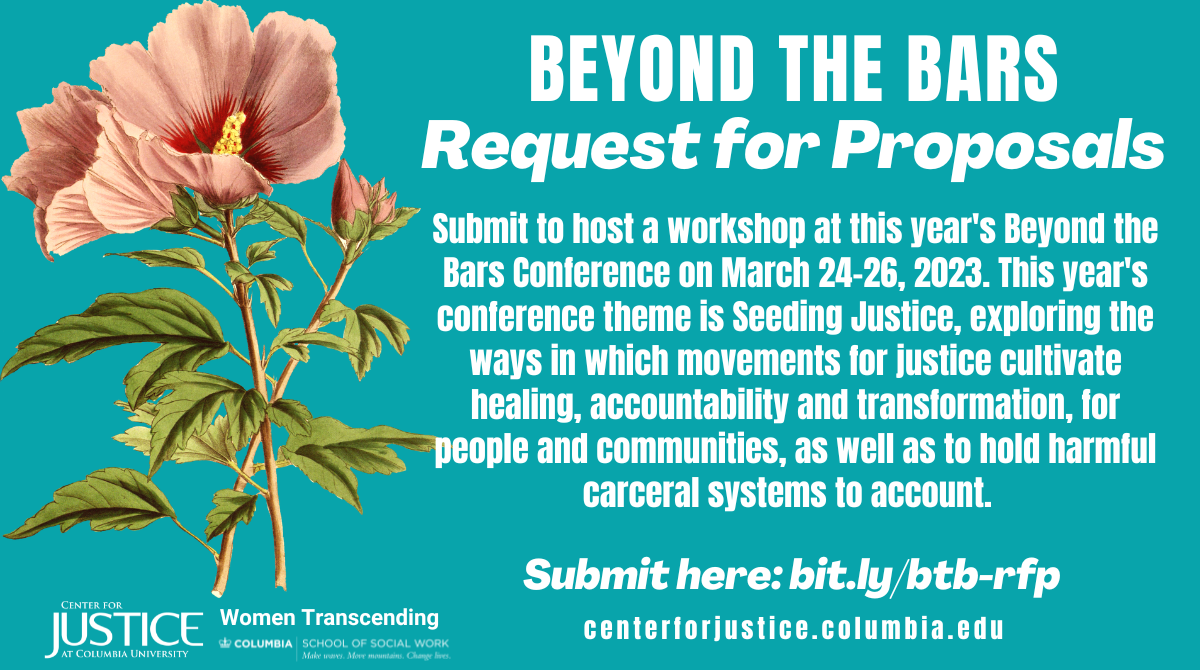 Conference Overview
The 13th Annual Beyond the Bars Conference of the Center for Justice at Columbia University 2023 is bringing together people, organizations and movements working on indigenous peacemaking, and restorative, transformative, healing and reparative justice to develop solidarity, share analysis, exchange strategies and practices, and together build power to create the world we need. There is more interest in these approaches than ever before yet relatively limited opportunities to learn, connect and grow about them. BTB 2023 will be an opportunity to learn about how people and communities are taking up these approaches in their own communities, about the tensions and possibilities of working in relationship to systems, and to build connections between and among those already doing this work.
The conference will focus on these guiding questions in the hopes of strengthening our collective work:
How do we understand the similarities and differences between indigenous peacemaking, restorative, transformative, healing and reparative justice?
How are people and organizations taking up these approaches in their own communities? What is working? what is not?
How do we ensure that these approaches to justice between people and communities are connected to movements for broader social transformation?
What are the tensions, limitations and possibilities in working in relationship to systems?
How can we think about the question of scale? Should we be scaling up these approaches? Or is there another way to think about this?
How do these approaches help us to address conflict and harm within movements?
 
COVID Precautions and Accessibility Information
COVID Precautions 
Masks will be required at the conference except when eating and everyone will be asked to test before attending and show proof of a negative test. 

Accessibility Information
Friday night and Saturday and Sunday plenaries will be livestreamed for anyone who prefers to attend virtually 
Friday night and Saturday and Sunday plenaries will include an ASL Interpreter for in-person attendance 
Please be in touch if you have any access needs and we will do our best to secure the necessary accommodations. 
 
Request for Workshop Proposals
Beyond the Bars 2023 will feature a collection of ninety minute workshops aimed at growing our collective capacity to practice justice and safety in our communities, and to organize for structural transformation that makes this possible. These workshops should be designed to facilitate learning about issues related to the conference theme, to develop and share practical skills, and to to engage people in advocacy and organizing efforts related to safety and justice. It is our intention that the workshops offer a chance for attendees to grow their skills, their community, and their opportunities to engage in the work of justice. We are particularly interested in workshops and trainings that support people in growing their knowledge and skills around indigenous peacemaking, restorative justice, transformative justice, healing justice and reparative justice. We are also interested in workshops that engage people in ongoing campaigns to challenge carceral systems, and to advance more just approaches to safety and justice.
These include but are not limited to:
Afrikan indigenous cosmology and healing
Indigenous peacemaking approaches
Restorative justice approaches and skills
Transformative justice approaches and skills
Healing justice approaches and skills
Reparative justice models, and ongoing campaigns
Mediation and conflict resolution models and skills
Deescalation strategies
Addressing conflict and harm within organizations
Addressing conflict and harm within families
Healing practices and approaches
Spiritual practices and rituals
Funding / resourcing models that support growing these approaches
Violence interrupter approaches and skills
Credible messenger models and skills
Campaigns working to challenge carceral systems that have opportunities for people to join the work
We invite proposals for workshops and or trainings that address one or more of these related topics and skills.
In your proposal, please emphasize tangible takeaways for participants and the ways you will facilitate this through active participation and/or gaining a deeper understanding of an issue.
Accepted proposals will be interactive and bridge the gap from analysis to action. We are especially excited about workshops and or trainings that provide the opportunities and/or resources for continued involvement after the conference weekend—either through one's individual actions or through involvement with a group.
All workshops will be 90-minute blocks and take place on either Saturday March 25th or Sunday, March 26th, 2022 at Columbia University School of Social Work. Because of the number of workshops, we are generally not able to accommodate requests for day and time preferences.
Please include in your proposal: the materials you will need for your workshop (e.g. projector, paper, markers, etc.)
To submit a proposal, please fill out this form by Friday, January 20, 2023 at 11:59PM EST.
Direct link to complete form: https://forms.gle/sc3eTVVfKU9SHYbM9
Please feel free to reach out to us with any questions or comments at: [email protected]