September 24, 2022
On Saturday, September 24, 2022, Columbia's Center for Justice collaborated with Sing Sing Family Collective for a project called Straight 2 School to facilitate conversations on higher education for children whose families have been impacted by incarceration.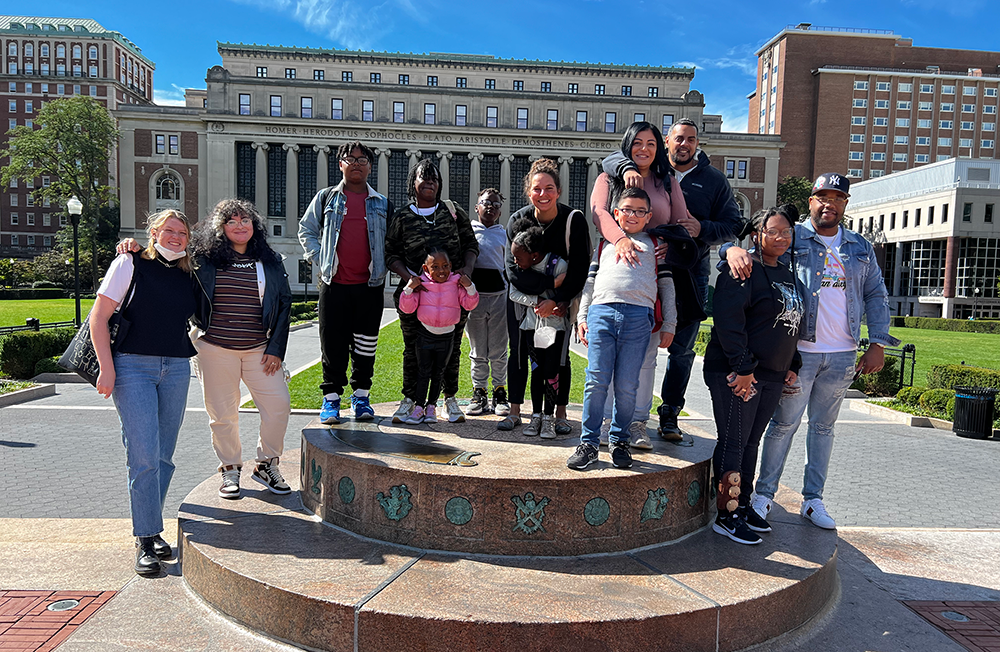 On Saturday, September 24, 2022 , Columbia's Center for Justice collaborated with Sing Sing Family Collective for a project called Straight 2 School. The Sing Sing Family Collective (SSFC), a grassroots network that provides support to families of those who are incarcerated at Sing Sing Correctional Facility, worked alongside the Center for Justice to facilitate conversations on higher education for children whose families have been impacted by incarceration.  
"Straight to School was proposed by Joseph Wilson, when a student in a class I was teaching in Sing Sing," Professor Downey explained. "He saw the importance of building bridges between institutions of higher education and children of students in college programs in prisons. He wanted children of incarcerated students to be welcomed to the campuses of the colleges in which the parent was a student."
Isabel Slingerland, a second year student at the Mailman School of Public Health and a volunteer at SSFC, collaborated with Bryanna Fuentes, a fourth year student at John Jay College of Criminal Justice and a Center For Justice research assistant, for the day's programming. 
Families impacted by incarceration toured Columbia University, with the goal, as Isabel explained, to "expose children, who might not see themselves in those spaces, to higher education" and the potential for such opportunities to support children of incarcerated parent's well-being and educational or career aspirations.
"Our hope," Professor Downey commented, "is that the first college tour will turn into many more."
The kids in attendance approached the experience with excitement, curiosity, and playfulness. Throughout the event, attendees, as SSFC member Anna Adler noted, were "literally breaking down barriers to access -- walking, climbing, playing, and asking questions along the way -- engaging as only kids do, with full force, energy, and curiosity."
The day's programming offered an opportunity for learning for all in attendance, and included remarks from Columbia students Yousef Mahmoud and Zenayah Roaché.
Yousef, a fourth year student studying psychology at Columbia, is excited to see more doors open for those who have been traditionally and systematically denied opportunities for higher education. He emphasized the importance of offering individual, specialized attention that walks students through the often daunting college application process and hopes to create a college prep program that would assist students with writing essays, provide interview skills, and offer insight into navigating the often complex and overwhelming system of the infamous Common App.
Yousef said,
I think every single person has a place in higher education. I don't think it should be for some people and not for other people, and it doesn't matter whether that's at Columbia or any other school.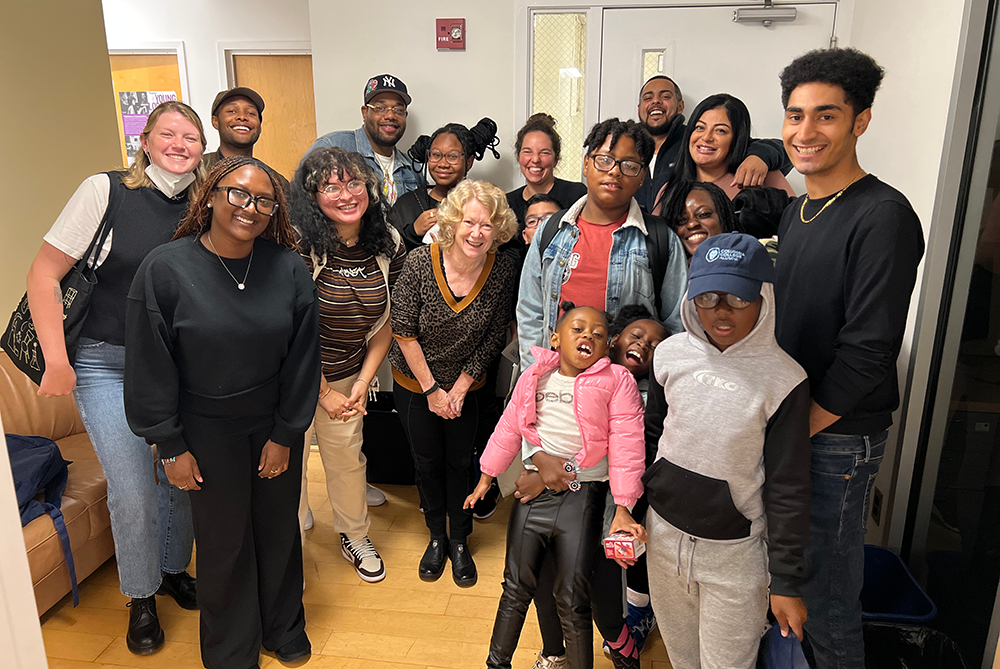 Aligned with a mission of opening doors and opportunities, Anna Adler extended Bryanna Fuentes an opportunity to contribute to the From Love art exhibit in Ossining NY. 
The show consists of donated family photos, letters, objects, and artwork that built a collective story of transcending and transforming narratives of incarceration. 
On October 8, 2022, Center For Justice research assistant Bryanna Fuentes showcased their artwork: Untitled Zine, fem masc, and Exposure Series at the From Love Exhibit reception, where the walls were covered in love, pain, laughter, longing, and unity.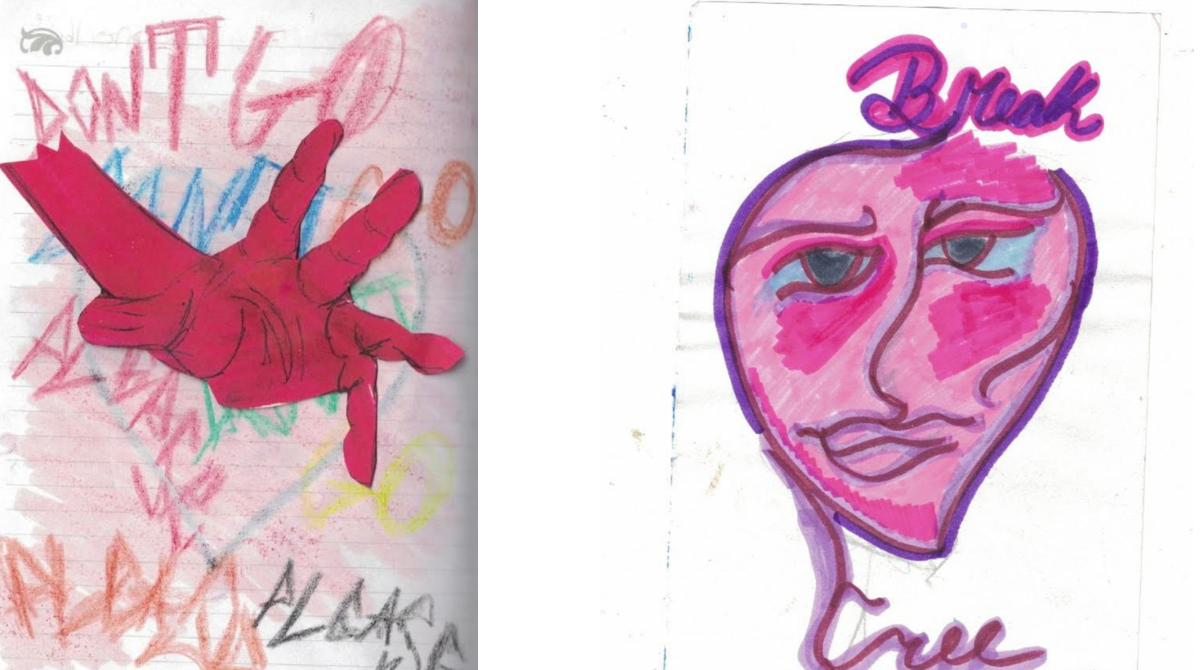 For Bryanna, the exhibit provided a platform for both artistic and personal expression. 
"Being a part of this exhibit brought joy to me in being able to show the struggles I have faced as a Lantinx individual who grew up in Brooklyn without parents because they were Justice impacted which stifled their chances of being a part of my life," Bryanna explained.
While the artwork showcased the pain and injustice in the incarceration system, it also highlighted the familial love and relationships that exist in rebellion to these abuses. 
While the situational pain behind each family's story is unique, the love that exists in its wake is universal.
You see love growing in front of your eyes with pictures of families and couples that try their best to stay connected through bars, and you see the reality of pain and trauma, said bars create not only to the individuals behind them but to their loved ones,
The power of the artwork presented difficult and complex questions. On attending the exhibit, Isabel commented on the power of the experience, "seeing people's love for each other and struggles with keeping that love while someone is incarcerated…it made that feeling very present in the room… why do these relationships have to exist in this way?"
While this question continues to haunt families affected by the prison system, artistic expression, and exhibits like From Love that are dedicated to uplifting the voices of those society often seeks to silence, offer an important outlet through which to grapple with such questions. 
"Knowing my artwork could touch the hearts of the community, as well as individuals who may be going through the same things brought a sense of feeling heard for the first time and fueled a bigger fire within myself to continue the fight of showing the injustice and neglect in our communities," Bryanna said.