March 17, 2022
We are seeking a Project Manager for Project Restoration, a collaboration with Bridge Street Development Corporation and the Center for Justice.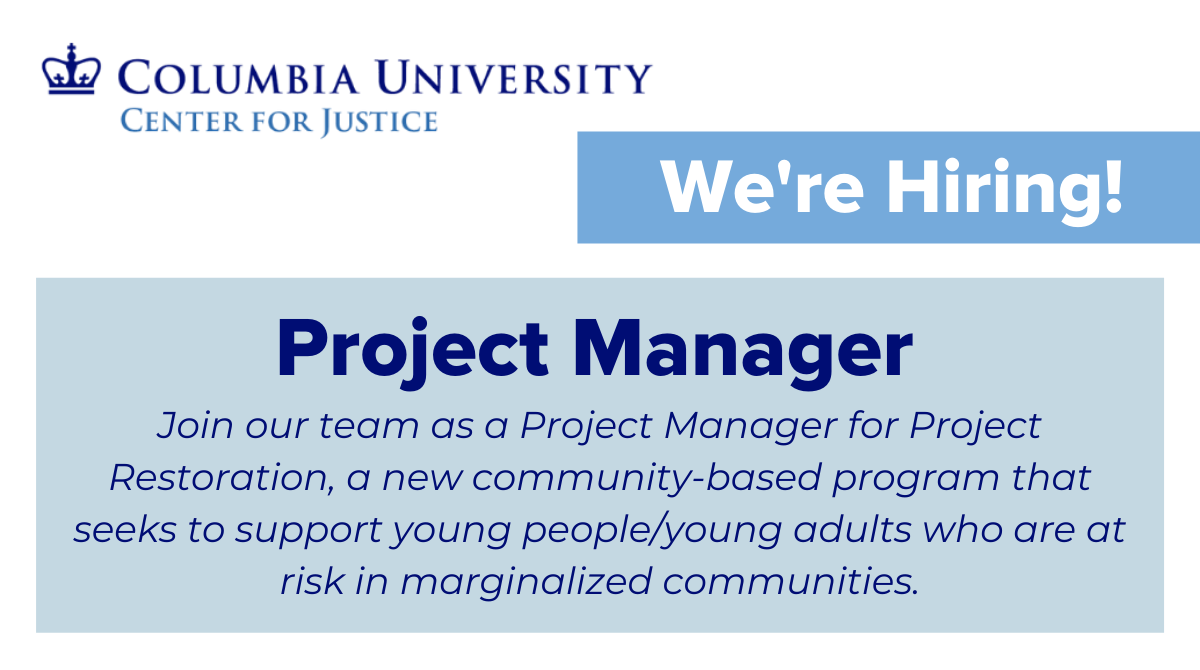 Job Description Position: Program Manager
Reports to: Program Director
Start Date: March 1, 2022
Salary: Mid $50K to $65K, commensurate on experience

Bridge Street Development Corporation (BSDC) - an innovative and progressive community development corporation located in the historic Bedford-Stuyvesant community of Brooklyn. We build and sustain strong communities where people of all incomes can achieve their full potential. Bridge Street Development Corporation is seeking a Program Manager for a new Cure Violence Initiative, Project Restoration.

Project Restoration is a community-based program that seeks to support young people/young adults who are at risk in marginalized communities. The program aims to introduce critical life skills, build socio-political awareness, reduce gang/gun violence and divert 'at risk' youth from justice involvement. Bridge Street Development Corporation will be responsible for carrying out the social work component of the program for the youth participants. Bridge Street's social work model is an evidence-based practice that demonstrates positive outcomes by assessing the needs of the beneficiaries and supporting them in meeting their needs by providing resources and accessible referrals.
Responsibilities may include, but are not limited to:
● Plan, develop, and manage all aspects of the Project Restoration program design, providing day to day operational support, supervision and oversight to the program staff: case managers, social workers, mentors and support staff.
● Collect information and required data for reporting and program documentation.
● Coordinate with other cure violence sites and identifying/recruiting volunteer sites/organizations for youth community service hours.
● Serve as a liaison with collaborating partners Inside Circle and Columbia University's Center for Justice and with sponsoring NYC agencies (i.e. Brooklyn DAs Office, MOCJ, NYPD, etc.) facilitate team leadership meetings, build frameworks for community projects, file/log all reports (i.e. case management, social workers) in Drive folders.
● Conduct personal check-ins with staff regarding work-related and wellbeing, managing caseloads.
● Outreach, recruit and support intake/enrollment of potential participants from key neighborhoods in Bedford Stuyvesant. Work closely with Project Restoration partners in the coordination of program deliverables. Minimum Qualifications:
● Bachelor's degree or higher (preferred areas of study: Criminal Justice, Social Work, or Social Psychology) Candidates with extensive experience navigating and working with disadvantaged youth and/or directly impacted communities will be prioritized.
● At least three years of youth centered work
● Office experience is required (i.e. navigating Google suite: drive, docs, sheets, etc.).
● Applicants will be fingerprinted clearance. Please don't be discouraged from applying if you have a felony conviction. This is only a precautionary procedure because of the scope of work.
● Drug testing is required. Marijuana is not included in the testing protocol.
Must submit proof of full COVID 19 vaccination at time of employment Other skills and requirements:
● Detail-oriented and organized as related to paperwork; deadline driven.
● Experience working with gangs and/or marginalized young people in the Brooklyn community
● Excellent computer skills and usage of remote learning tools such as Zoom, Google Classroom, etc.
● Must be willing to travel locally, comfortable traveling throughout Brooklyn independently. Including visits to Rikers Island.
● Highly dependable.
● Flexible personality, ready to help when asked.
● Able to communicate well with teenagers, parents and outside-agency staff.
● Enjoy working in a fast-paced environment.
● Flexible and works well as part of a diverse team.
● Able to present themselves professionally at all times and demonstrate appropriate boundaries with teens, parents, external sites, and coworkers.
● Bilingual Spanish preferred, not required.
Other Job Details: Position starts April/May 2022 and interviews are scheduled upon request through April 18th, 2022. Apply To: Please send resume and cover letter to: "[email protected]". Indicate "Project Restoration: Program Manager" in the subject of email. Due to the high volume of applicants, only qualified candidates will be contacted. Bridge Street Development Corporation is an equal opportunity employer.