June 28, 2023
Collective Leadership Institute alum Chazidy Bowman shares how the program enhanced her work supporting other families impacted by incarceration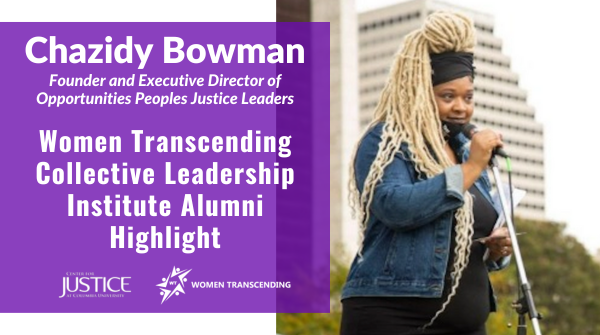 Name Chazidy Bowman
Cohort: 4
Location: Cincinnati, Ohio
Title: Founder and Executive Director of Opportunities People's Justice Leaders
 
Tell us a bit about your work.
I have a nonprofit called Opportunities Peoples Justice Leaders. We started in 2020 and our main objective was to advocate for the rights of the incarcerated. COVID pushed us in that direction because we were worried about people inside and my husband was serving a 9 year sentence at the time.
We became a resource to families through Covid, and then we grew and just became a resource period. We advocated for people's rights not just in relation to COVID but in cases of excessive use of force, fighting for healthcare, etc. We were inundated with calls about what was going on inside. 

How does your work specifically support women?
After two years of working around COVID issues, we then shifted our focus solely toward women. We realized that the women were always left out of the conversation about mass incarceration. I knew we needed to do something for the women. So we created the POW program which stands for Protect Our Women. We focused on women who had two years left on their sentence so we could get them connected to services as they were transitioning home so they can have all the tools they need. 
This is the 2nd year of the program and it has been really successful so far. We received some funding through the CLI cohort to create our own curriculum and publish it. We're growing in a way that we are helping people not just in an advocacy way but in the tools and keys to life to help them be successful beyond prison and beyond reentry. We focus on their mental health, what it looks like to keep the family together, and what it means to have real conversations about issues others aren't talking about or facing. It's a holistic approach. 

How did your experience with CLI support your work? 

One big takeaway I continue to use is storytelling. I get so passionate about what I do. Sometimes when I am speaking about it, because the work we do is so heavy and I have experienced so much, it's hard to relay my passion in a way that relates to people and the right audience. There are so many audiences–people who are your allies, people totally opposed, people who have been directly impacted, etc. The sessions on the art of storytelling made a big difference in being able to be a voice for all of the people we serve. 
Listening to Cheryl and the matriarchs of this program and seeing how they move and the examples that they gave us have been essential to me. I've used their own examples and life experiences in my work.

How has the CLI community supported you? What relationships have you built/connections have you made?
All the ladies have been so supportive even today. There are meetings, trainings, and more across the country that I'm still being invited to. Right now we're doing a research project with the University of Cincinnati on post-incarceration syndrome. I found out there was someone in our cohort who has been doing this work for the last 15 years. She's been sharing a lot of the research she has done and connected me with folks she works with. It's just a big help to me and an ongoing resource. The support is real. Everyone a part of this cohort checks in on you regularly and calls to see how you're doing. That says a lot. In this work you can get caught up and forget about your people, so it means a lot when those emails and texts come through. When we have to be strong for everyone else it just lets us know they care.


What is your favorite memory from your time with CLI and why?
Graduation and the Tree of Life ceremony. There was just something about that moment that made me feel like I was a part of something. This work is so tough. It can be very dark. There are not really many spaces that I have been in that I have felt were authentic and real like CLI is. 
 
What would you say to future cohorts of CLI?

What you put into it is exactly what you will get out of it. It is absolutely worth your time. It's life-changing. You will walk away feeling sustained and fulfilled. And with so much knowledge. I would encourage any woman trying to take their work to the next level to do this. It expands who you are as a person and as a leader.
Learn more about Chazidy's organization Opportunities Peoples Justice Leaders: https://opjl.us/